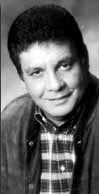 Fernando Poe Jr.
20 August 1939 - 14 December 2004
He died a minute past midnight. By half past twelve, the word had gotten around. Some of those who heard it in their beds wept quietly in their pillows and said a prayer or two for the repose of his soul.
Such is the way with the passing of good men. No, not great men nor saints but plain good men who are able to touch the hearts even of those whose lives they hardly touched. "Da King" is dead, leaving his queen bereft.
I am not a fan of Da King, but i will not deny ever watching some of his films. How could I ever deny that...I grew up a Filipino.
I never really thought of what the Filipino people saw in Fernando Poe Jr. that made him so popular. Now, as I am confronted with the news of his death (and the lack of new posts in our blog), I was able to take time and think about it.
Fernando Poe, Jr, was a cinematic force. He created his own aesthetics where part of the battle for good and evil was the protection of women and children. In his films, he would always have a sidekick, sometimes a funny man filled generously by the likes of a guitar-playing Pablo Virtusio and a bumbling Dencio Padilla. Sometimes, there would be a little boy, representing the vulnerability and the charming naiveté of the masses, prodding him and making him realize that there was something to fight for, and that there was injustice in the land.
The "masa" loved the "maamong tupa--inapi--babangon muli upang ipaglaban ang katarungan". To the masses, Fernando Poe was being himself: a hero simple and quiet.
Underdog.
During the time I thought about the driving force behind the love of the Filipino masses for Ronnie Poe, I discovered that I am more Filipino than I would like to believe. My heart holds a special place for underdogs.
Been beat up
Been broken down
Nowhere but up when you're face down on the ground
I'm in last place
If a place at all
But there's hope for this underdog!
-Audio Adrenaline